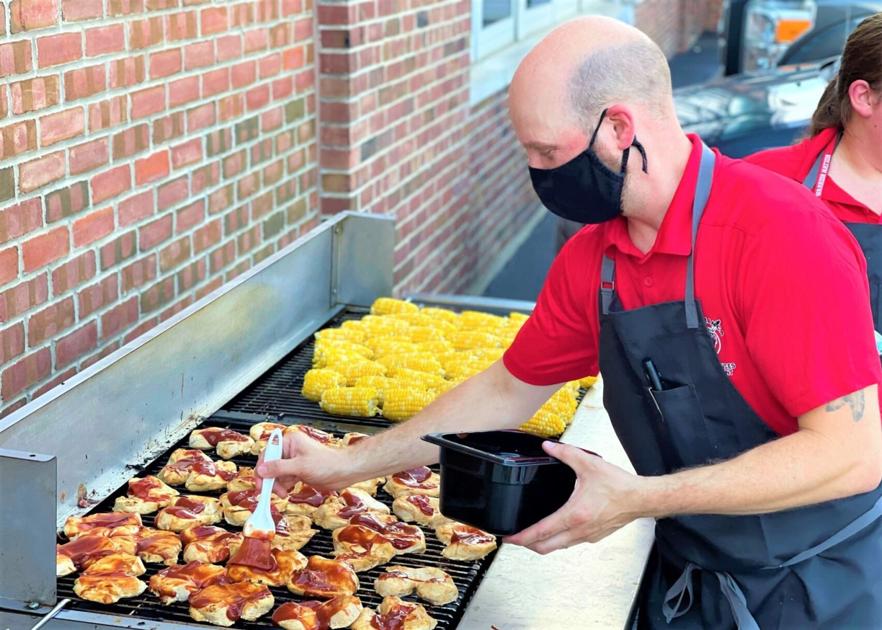 Salamanca Schools Switch to New Fresh Food Program | Cattaraugus County
SALAMANCA – Students attending the Salamanca City Central School District this fall will feast on school lunches like they've never had before.
The district and Brigaid, a foodservice startup whose chefs provide hands-on training, have started a new foodservice partnership to transition Salamanca to a stand-alone foodservice program and improve the quality and ingredients of school meals.
"Now we cook everything in our kitchens and have received great feedback," said Karen Magara, Assistant Superintendent of Operations and Finance.
The program kicked off the new approach at the district's welcome picnics on August 25 and 26, Magara said. She said the students and staff loved the new menus, which included chicken kebabs, naan bread and corn on the cob, all fresh and made on site.
"They don't buy processed foods. Everything is being done, "she said. "They even made cookies out of thin air, not out of a boxed cookie mix."
Before Brigaid, the district used a food service management company that offered lots of foods "to heat and serve," Magara said, as well as things like prepackaged mixes.
Magara said the idea to hire Brigaid arose when one of the district administrators saw the business owner, Chief Dan Giusti, on an episode of "Rachael Ray Show". She said Giusti was discussing her decision to quit catering and start providing better food options to schools.
"She said it was really cool and that we have been discussing for years the possibility of doing something different in our cafeterias," said Magara. "So we caught him and the next thing you know, we're under contract with them and they're here."
With Brigaid's help, Magara said the district hired John Haley, a local chef who previously worked at Cattaraugus Community Action's Food Pantry, to serve as director of food services.
Brigaid and outgoing Foodservice Director Drew Venezia will help train Haley and then help her set up a healthy and self-sustaining school feeding program at the three schools in Salamanca during the year.
Brigaid, Haley and the District Food Service team will also work with local Seneca Nation members to adapt indigenous recipes and foods to NSLP guidelines, Magara explained, and then showcase these foods throughout the year. .
"I hope we can buy tomatoes or potatoes or something like that so that we can use local produce," she said. "We also want to work with them to potentially bring in bison to make bison chili or things like that for the kids."
Many Salamanca food service employees have returned, while others have been recently hired, Magara said. Together, the district and its food service employees are committed to providing students with "the best in food and service."
On Wednesday, the first day of school, Superintendent Robert Breidenstein shared that a student told him the cafeteria was so quiet because everyone was eating, Magara said.
Magara said the goal was to equip Haley, the department's cooks and food service assistants with the skills they need to create a program for Salamanca students that reflects the area and its people.
"We're going little by little and we're really focusing on having lunch at this point," she explained. "Once we're done, probably around January, we'll start focusing on the breakfast options. By next September, everything will be completely redone. "
Even with Brigaid's new catering service, all student breakfasts and lunches are free for the first serving, Magara said.
The USDA has extended its free meals program for qualified districts until the end of the 2021-22 school year, Magara said. However, thanks to the Community Eligibility Provision (CEP), Magara said Salamanca will offer free meals until at least 2024.
"I think the staff are just as excited as the kids," she added. "So far everything has gone well and working with Brigade has been top notch. "