bjarke ingels group designs neuroscience center to mimic soft folds in brain
a neuroscience and psychiatry center
bjarke ingels group / BIG reveals design for new neuroscience center in aarhus, denmark. the project will be the first of its kind, as it combines the fields of psychiatry and neuroscience under one roof. the aarhus university hospital proposal will combine both science and the treatment of physical and mental illnesses of the brain, spinal cord and nervous system.
spanning 19,000 square meters, the architecture is designed to mimic the gyrification, or soft folds, of the brain. this folding strategy will make the most efficient use of the limited area of ​​the site while introducing visual connections between the different disciplines of the hospital.
images © bjarke ingels group / BIG | @big_builds
bjarke ingels group teams up with danish neuroscience center
bjarke ingels group (see more here) is designing its new neuroscience and psychiatry center with the danish center for neuroscience. the DNC has become a world-class research and treatment center for understanding and treating the most complex, efficient and adaptive organ in our body – the brain. scheduled to open in 2026, the new building will be directly connected to the existing campus of arhus university hospital and seeks to intensify the hospital's unique approach combining health care, education and scientific research to collaborate and inspire each other.
the biomimetic design, mimicking the folding brain
bjarke ingels group's proposal for the six-story neuroscience center combines the efficiency of a busy double-aisle building with the generosity and openness of a classic atrium typology. By folding the floor plan around an atrium, similar to the characteristic folds of the cerebral cortex, the design not only allows each floor to achieve the necessary square footage in a limited area, but also creates a number of connections and small groups with intimate workspaces, courtyards and views between each floor of the hospital.
patients and guests access the building through a generous reception area, into the large open atrium in the center of the building which contains an experience center – an interactive public exhibit and presentation space. visitors can head straight to one of the upstairs clinics or enjoy the cafe and a public green courtyard downstairs.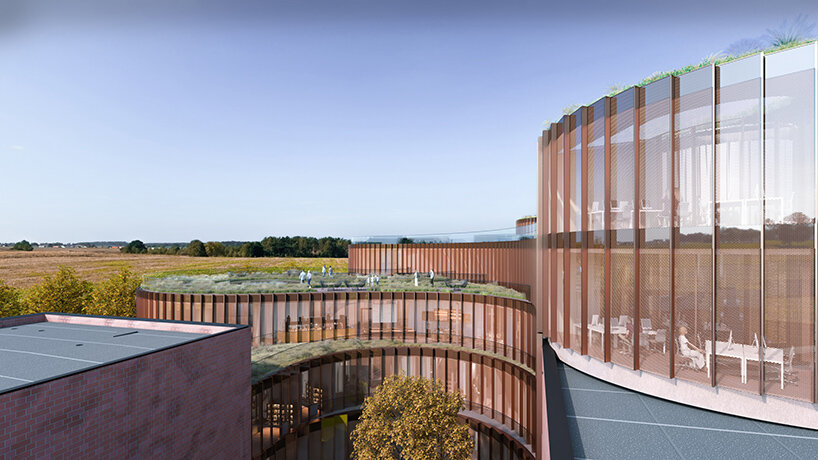 each department, from neurology and nuclear medicine to headache clinic and psychiatry, has its own space and program functions. to avoid separation and fragmentation between the disciplines, big proposes to organize them according to the functions they have in common. this encourages intersections between different research groups that can help fuel inspiration, innovation and creativity, and sustain spaces for growth, reduction or replacement.
natural materials throughout the building, such as wood and brick, used in other campus buildings will provide positive health benefits and a comforting atmosphere for patients and guests. the red concrete of the exterior will blend well with the existing brick buildings and bring warmth to the spaces, contrasting with the usual clinical and sanitized white environment of hospitals.