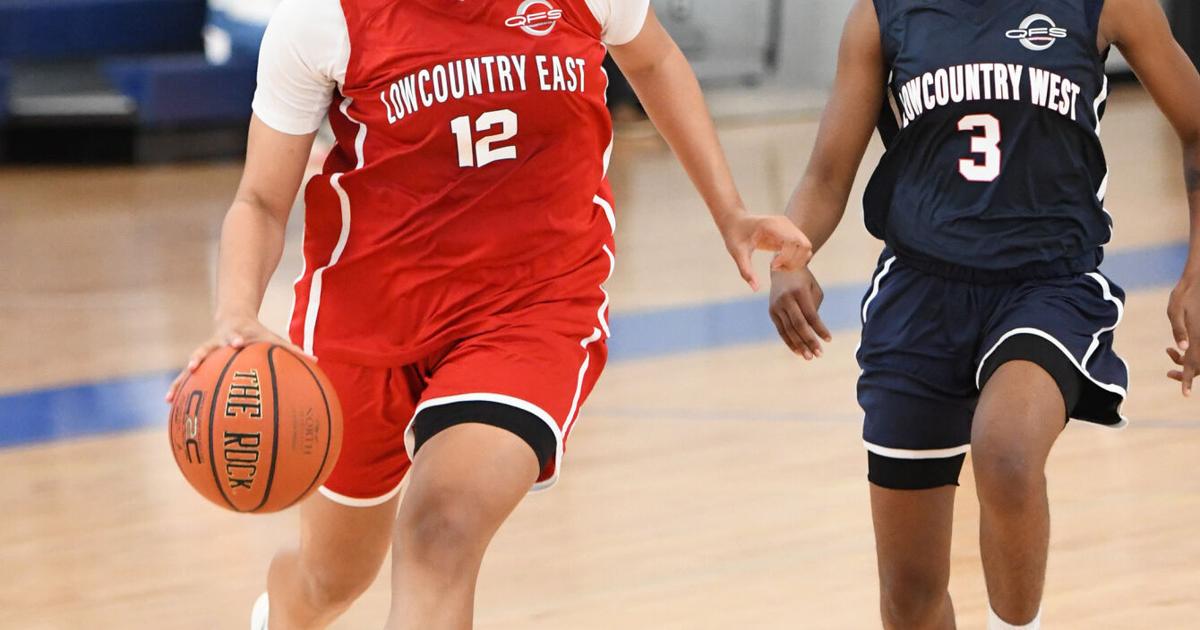 Lowcountry All-Star Basketball Games Have Big Fun, Dunks | Sports
Sometimes the first annual Lowcountry High School Basketball All-Star Games looked a lot like what you'd see on a public court or in a backyard. But, the main goal is to have fun and please the fans and the area high school talent did it Saturday at the North Charleston Athletic Center.
Although several of the region's top players didn't make the game, those who did appeared to be enjoying the opportunity to tie their shoes off for the last time this season. The boys' and girls' matches involved players of all classifications and levels, from SCHSL and SCISA schools.
The girls game was won by the East Stars, 73-58. The East team was led by junior Berkeley forward Peighton Jambor, who scored 16 points. Jambor averaged a double-double during the high school season.
"It was fun, that's what it's supposed to be, having fun," Jambor said. "I had the chance to play with great players. A lot of us play with each other during the AAU season so we all knew each other. We just wanted to play and have fun.
Philip Simmons' junior Kennedy Rivers added 13 points for the winners while Northwood Academy runner-up Alayah Birch scored nine points.
West Ashley senior Kristen Jenkins paced the West team with 16 points. Jenkins was the SC Basketball Coaches Association Class AAAAA Player of the Year this season.
Northwood Academy coach Ginnell Curtis coached the East Stars.
"I thought it went well for the first time," Curtis said. "It's great for the girls to come out in front of the community and have fun. I think it will only get better in the future.
While the girls' game offered a bit of defense, the boys' showcase was like watching an NBA All-Star Game. No defense and lots of dunks. The East team won the match, 128-90.
Fort Dorchester senior forward Demetris McKelvey was named the most valuable player, scoring 19 points. Timberland senior Lyric Evans led all scorers with 21 points. Fort Dorchester senior guard Davion Joyner added 18 points and Philip Simmons senior forward Matthew Lemmon scored 13 points.
"Man, that was awesome," McKelvey said. "All-star games are about having fun and entertaining the crowd and I thought both teams did that. Everyone was trying to do fancy dunks to get the crowd moving. It wasn't really about winning, but both teams had very good players. People want to see points and dunks.
Cane Bay senior guard Rob McLeod paced West with 17 points while Woodland senior guard Nazel Johnson added 16. Oceanside Collegiate junior guard Malachi Stevens contributed with 14 points for West .
The event was sponsored by JG Sports.