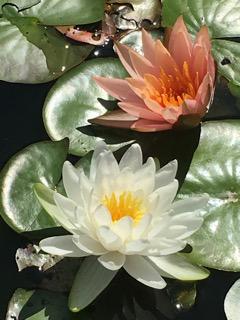 Take the time to admire the water lilies in the garden of the master gardener
A stop on the Master Gardening Central Bog Bridge can transport the viewer to Giverny, France. Looking down from the top of the bridge and over the ponds, Monet's famous water lily paintings seem to come to life. The colorful flower gems float like water nymph crowns, but they're actually suspended and held upright by sturdy stems.
According to Texas A&M AgriLife Extension, there are several native species of water lilies or "lily-like" species found in our ponds, lakes, and ditches throughout the spring and summer: the American water lily (nymphaea odorata), the yellow water lily (mexican nymphaeum) and the blue water lily (Nymphaea elegans). But here at The Bog, our ponds are populated with hardy, hybrid water lilies.