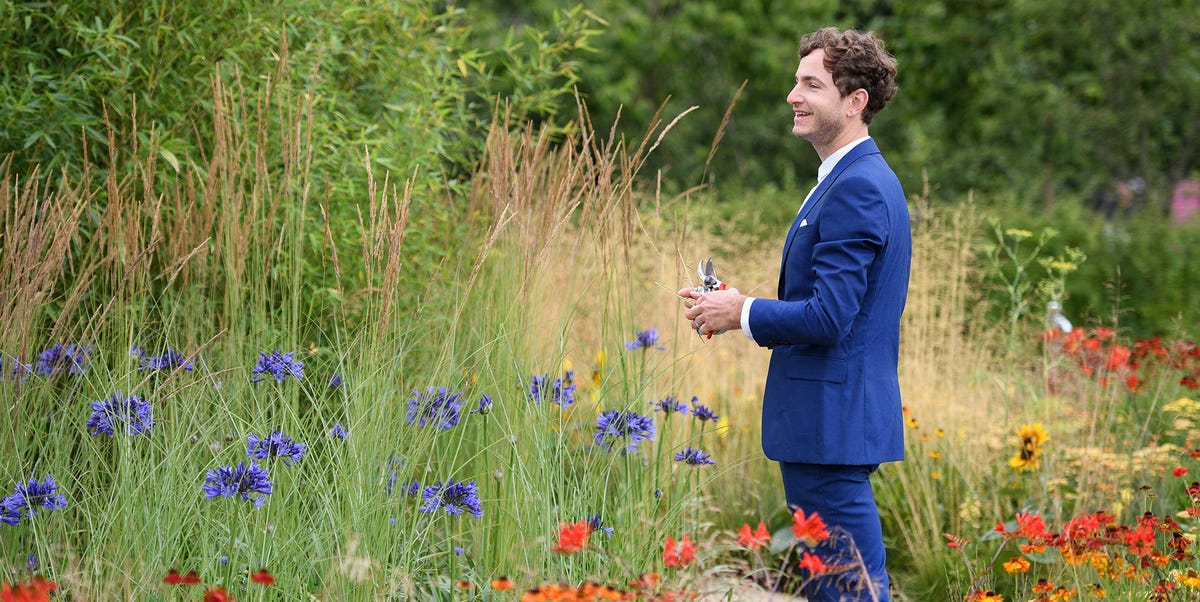 Who is Tom Massey, the gardener who designed the first organic garden at the RHS Chelsea Flower Show?
Tom Massey is an award-winning garden designer and landscape designer and in September he will design and execute the first-ever organic exhibition garden at the RHS Chelsea Flower Show 2021.
Designed by Tom Massey and supported by Sarah Mead, sponsor Yeo Valley Organic, Yeo Valley Organic Garden will be a celebration of the wildlife, habitats and plants found in Somerset. You can read a detailed profile on the design of the garden here.
But who is Tom Massey – London College of Garden Design graduate and BBC Two's presenter Your garden made perfect – about to make history at the biggest gardening event on the annual calendar? We caught up with Tom to ask him questions about his take on Chelsea, his organic gardening practices and what the future holds after Chelsea's first-ever fall flower show …
Chelsea's first organic show garden – it's a hit …
As far as we know, this has never been done before. I am determined to create a garden free of pesticides and chemical fertilizers, using peat-free soil and minimal plastic. Other show gardens have incorporated organic elements, but I think the Yeo Valley Organic Garden is the first attempt to grow everything organically.
Does that make him more stressful?
Gardening this way is less predictable, but it makes it more exciting. Sarah Mead, Yeo Valley's chief gardener, has made it clear that winning a medal is definitely secondary to creating a truly organic garden and one that promotes that approach. This is my fifth show garden, so I'm familiar with the process, but I'm sure I won't feel relaxed the day before judging!
Take us for a walk in your garden …
We have planned a mix of perennials and ornamental grasses. There will be meadows and woods with birch, willow, medlar and quince, so it will look like a little slice of Somerset. A stream will flow along a stepping stone path leading to a hanging oak skin in the shape of an egg by Tom Raffield. Mendip's Stone Blocks and Charred Logs come from the farmlands of Yeo Valley and will be returned there after the show ends.
---
Tom Massey's RHS Medal History:
RHS Silver-Gilt Medal at Chelsea 2018 for the Lemon Tree Trust Garden
RHS Silver-Gilt Medal at Hampton Court 2017 for Perennial Sanctuary Garden
RHS Gold Medal and 'Best Conceptual Garden' at Hampton Court 2016 for UNHCR's 'Border Control' Garden
---
Is organic just sloppy and buggy?
We want to prove that it can also be beautiful. Of course, not using chemical pesticides means plants are more prone to aphids, grape weevils, and slugs, but there are some good, chemical-free pesticides like SB Invigorator. Organic plants don't grow as big but are more resilient because they don't depend on chemicals for survival.
Do you have any other bug-fixing tips?
Encourage predators in your garden – a small pond will bring in toads that like to eat slugs. Or, if you know a plant is susceptible to pests, place a bird feeder nearby – birds will do without.
---
More news on Chelsea:
---
Could the Chelsea Flower Show go fully organic?
Things are already changing, with the peat-free show. The next step could be to ban pesticides and chemical fertilizers and ask exhibitors to use organic potting soil. I think judges should also offer ratings for sustainability as an incentive. For me, it's about protecting the natural world. Currently, 40% of insect species in the UK are in decline, with a third listed as 'endangered'. If we continue to use insecticides,
we envision a mass extinction of insects in the next 50 years.
How is the show different this year?
Sarah and I were thrilled when the show was scheduled for September. We were due to exhibit in 2020, when it was canceled. I didn't want the plants to go to waste, so we delivered them to hospitals. A few have been kept for this year. It has been a challenge to keep them vibrant, but the organic principles encourage reuse on a well-tended garden and the ferns and herbs are fuller. I love to see fruit on the trees and silhouettes of seed heads against the low fall light.
What's in the diary after Chelsea?
I shoot a second series of Your garden made perfect for BBC Two and recently created a "mobile" orchard planted with pallets near the Olympic Park. I also work on residential projects – from Yorkshire to Cornwall. I want to create beautiful gardens that improve the environment and support wildlife.
This content is created and maintained by a third party, and imported to this page to help users provide their email addresses. You may be able to find more information about this and other similar content on piano.io