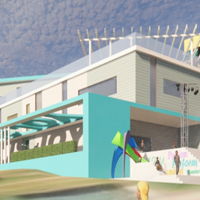 WATCH NOW: Designs unveiled for new school in East Greensboro at site hit by tornado | Education
Sheldon Curtis, who lives a few blocks away, attended Peeler as a child and said his grandmother saw the school being built.
Curtis said he would have preferred the school district to be remodeled and possibly added to the old Peeler building, keeping it for tradition. He said he also had questions and concerns about how traffic patterns will work for the new school and whether it will increase congestion in the neighborhood.
Still, he's glad the district is considering rebuilding at the site because children need schools, he said.
James Glover, who lived in the neighborhood for 71 years and still returns frequently, said he remembered seeing children playing ball on the pitch outside of school, in the years since preceded the tornado, and the large blue tarp that covered part of the roof that the storm damaged. In recent months he has witnessed the completion of the demolition of Peeler.
Sitting on a lawn chair in a friend's yard, Glover watched a video of the schematic design as part of an interview for this article.
As he watched, a simulated camera circled around a 3D rendering of the building, starting with the exterior, where giant letters cast shadows spelling out "Art is Joy" on the school's exterior wall and a huge fin-shaped structure shaded part of the roofs. He walked through the classrooms and common areas, encircling the center of the building, where the second floor is cut off and bordered by a balcony, adding vertical space to these first floor performance common areas.