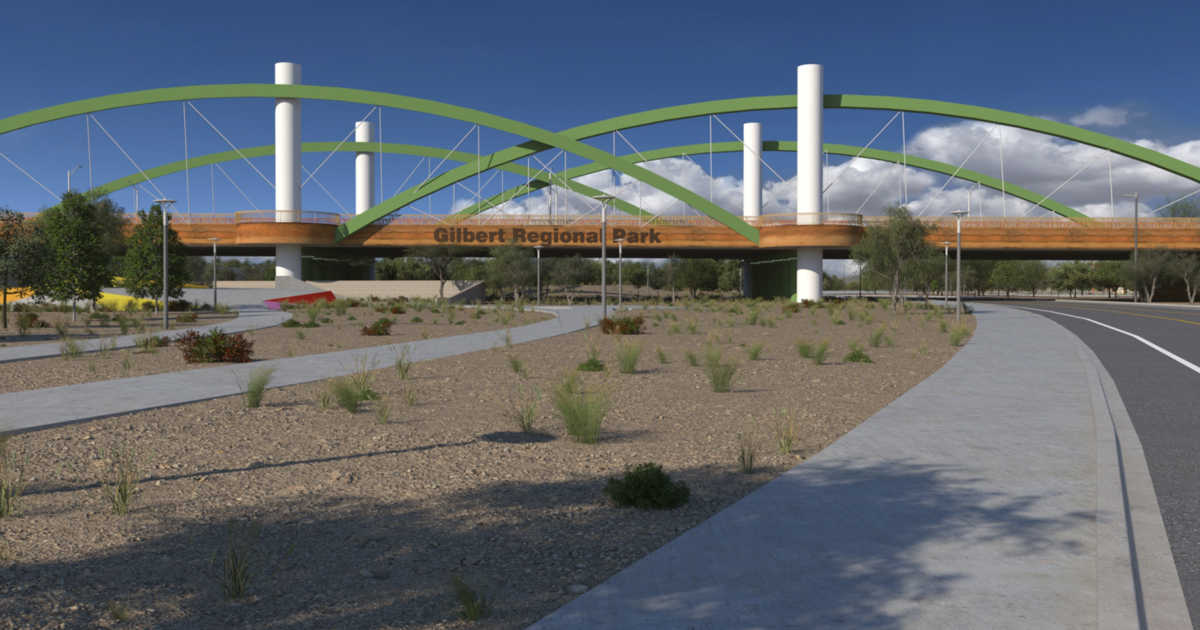 Town Pares Ocotillo Bridge Designs at 2 Options | New
The City has reduced the aesthetic design of the planned Ocotillo Bridge across Gilbert Regional Park to two from four and is again asking the public for input.
Residents can comment from May 31 through June 14 on both options – the Palo Verde concept and a new Desert Falls design, which incorporates the best of elements from the previous three renders – Waterfall, Water and Stone, and Cascade.
Some 3,490 people in a survey weighed in on the four original concepts, which were designed around a desert oasis theme that resulted from public outreach.
"I really like how you took the other three remaining designs and incorporated the best of each into something we call Desert Falls," consultant Scott September told Kimley-Horn consultant during the session. May 24 study. "Very creative, I'm impressed. This came out of left field. I didn't think that was going to be an option.
"It was just a great idea. I can't wait to see what the comments will be about it.
The top two choices among those polled were Palo Verde with 65.2% of the vote and Water and Stone with 56.1%, followed by Waterfall with 45.2% and Cascade with 33.5%.
The City wants to build the declaration bridge to connect Ocotillo Road between Greenfield and Higley Roads. Ocotillo is currently separated by a number of natural barriers, such as the Queen Creek Canal, the East Maricopa Diversion Canal, and a Roosevelt Water Conservation District Canal.
The 545-foot-long bridge will have four lanes of traffic as well as bicycle lanes and pedestrian lanes. The overall budget for the project was $67 million with the construction portion of $54 million, according to the City. Construction was scheduled to begin in fall/winter 2023.
The city also plans to widen Ocotillo Road from Greenfield to Val Vista Roads – a plan opposed by property owners who will lose portions of their land to the project. If the owners refuse to sell at appraised value, eminent domain will be used.
The proposal to expand the two-lane Ocotillo to five will affect 46 properties, nine in city jurisdiction and 37 in Maricopa County, prompting six homeowners to speak at the May 24 council meeting. Most properties are 1 acre in size.
According to the City, the widening of the roadway is an essential piece of infrastructure to provide the connection in the southern part of Gilbert and has been identified in the general plans and previous transportation master plans. The project is approaching 60% of design, with design completion expected later this year.
Rich Robertson, a county resident who lives on Ocotillo Road, said the city is taking up more land than originally planned.
"Road expansion is not new to us," Robertson said. "I knew when we bought our house almost 20 years ago that this was a minor artery. I saw the Gilbert transport plan at the time, I presented it. The Ocotillo Bridge was part of this plan nearly 20 years ago.
"The easement on my property was set for this highway in 1985, so it's no surprise. But what was a surprise was the extra 10 feet," he continued. "In the 40 years since, if you will, since my easement was established, building permits issued by Maricopa County for pools, walls, outbuildings and homes. Gilbert and the county established subdivisions based on those 55 feet and now that's changed.
"And I think 10 feet is where most of the damage will be. That's where most of Gilbert's taxpayer spending will come from removing those walls, those outbuildings, those pools that were built with a 55 foot hold.
Robertson said during the presentation of the previous study session on the Ocotillo Bridge, the extensive public outreach by the city for feedback was noted.
However, none of that happened for people on the county island, he said.
"My request to council is that you direct staff to bring this widening up to 55ft and work with the residents there to see if we can mitigate the damage to our neighbour," Robertson added.
Council did not respond to residents as the issue was not on the agenda.
Ellen West said the stakes already placed in her garden, which lean against Ocotillo, will cut its size in half and result in "having a wall about 15 feet from my back door."
"I will be less than an acre," she added. "It will change the value of my property considerably, more than what you will pay me for the feet you will remove from my garden. We will go from now from a value between $800,000 and $900,000 to 1.2 million dollars up to about $400,000. You won't give me any money to make up that difference.
West said the loss of the land will mean she won't be able to put in a pool to dip into to relieve some of the pain from three types of cancer she's been battling since 2011.
"I don't have much time left and I don't have time to move," she said. "We don't have the capacity to do this to escape this problem."
Her husband, Ray West, said the couple bought their property on 154th Street more than 20 years ago to escape the city and "now the city has come to us."
He said when he bought his property, the address was originally in Chandler, but Gilbert later took it over and the city also took 2,200 square feet, an easement the couple owned in east of their home, without compensation for a road.
We are tired of Gilbert appropriating property that does not belong to them," he continued. "They took property from us, our neighbors are crossing the street and next to them. No compensation, they just took it because they felt it was the right thing to do and now what they want to do is build a five lane road in our backyard.
"Why does Gilbert think this can upset people who want to be left alone in the country and yet you want to bulldoze through and disrupt our lives and make it look like crap for who knows how many time before you finish it?"
Eric Naddy said the proposed five lanes, sidewalks and horse tracks total 89 feet and asked why the City wanted 130 feet.
"Decoration, landscaping? he said. "We don't want it."
The irony, he says, is that the city wants to build a horse trail, but will take land away from horse owners to do so.
"We're not going to take horses down a five-lane road," Naddy said. "It's a bad idea."
He also faulted the city for not doing a better job of informing residents about the project.
"Please let's be independent thinkers here and think about this logically," Naddy said. "It takes 89 feet, let's not be greedy. You don't need to take more than you need. Take the 89 feet, don't affect your neighbors. We may not be your constituents, but we are your neighbours. Take what you need, not what you want.
Jason Halaby said he was aware of the road widening, but was unaware the project would take up an additional 18 feet inside his fence or about 3,500 square feet of his property.
He said amenities such as a horse trail are not needed on Ocotillo Road.
"The goal is to relieve traffic pressure, not to look aesthetically pleasing," Halaby said. "I may not be a Gilbert resident, but I've owned a Gilbert business for 15 years and I pay my taxes. I want to see my taxes spent wisely.