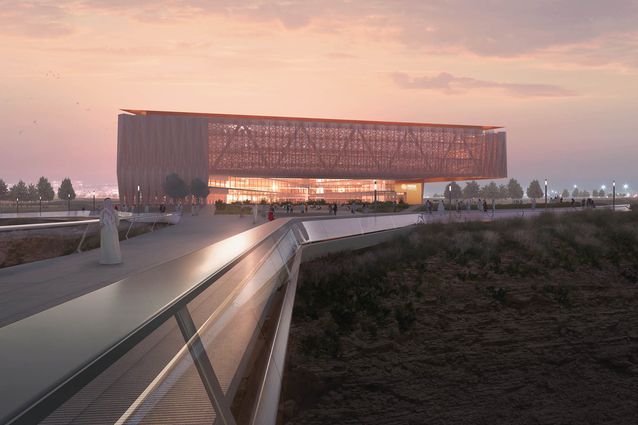 Australian architect designs headquarters for 'world's first non-profit city'
Conrad Gargett has was appointed to design the Misk Foundation headquarters in Saudi Arabia, intended to be the centerpiece of the world's first supposedly non-profit city.
The city was announced by Crown Prince Mohammed bin Salman in November 2021 to help achieve the goals of his namesake foundation, known as Misk. The foundation was established in 2011 to promote learning and leadership among young people, and it will also fund the development of the new city.
This city, which will cover an area of ​​3.4 square kilometers in the Saudi capital of Riyadh, is intended to serve as an incubator for young people, volunteer groups and non-profit organizations. Named Prince Mohammed Bin Salman Nonprofit City in honor of its founder, it is intended to create a vibrant and environmentally sustainable community that can serve as a model for others around the world to develop. The new headquarters will be located in the heart of the new city.
Conrad Gargett's managing director, Lawrence Toaldo, said the new headquarters is designed to create an environment for collaboration and creativity, from outdoor gardens to views of Riyadh's skyline.
The headquarters will be located on top of a peninsula formed by deep ravines or "wadi" in the city. The ternary shape of the building will be oriented towards Wadi Hanifa, a valley in the Naj region of central Saudi Arabia.
The head office will be elevated by the internal 'forum gardens', which will be protected and shaded by an oversized 'mashrabiya' – an adaptation of the traditional Arabic wooden screening device. Headquarters offices will wrap around the building and feature a transparent interior courtyard façade to enjoy views of the interior gardens.
The exterior of the building will feature a protective perimeter wall, designed to reference the traditional architecture of Najd and celebrate the changing play of light from the tessellated surface throughout the day.
Conrad Gargett aspires to achieve GBCI LEED Gold certification and an IWBI WELL Gold rating for the new design, for its focus on sustainability and well-being.
The Misk Foundation building will be completed in 2025.