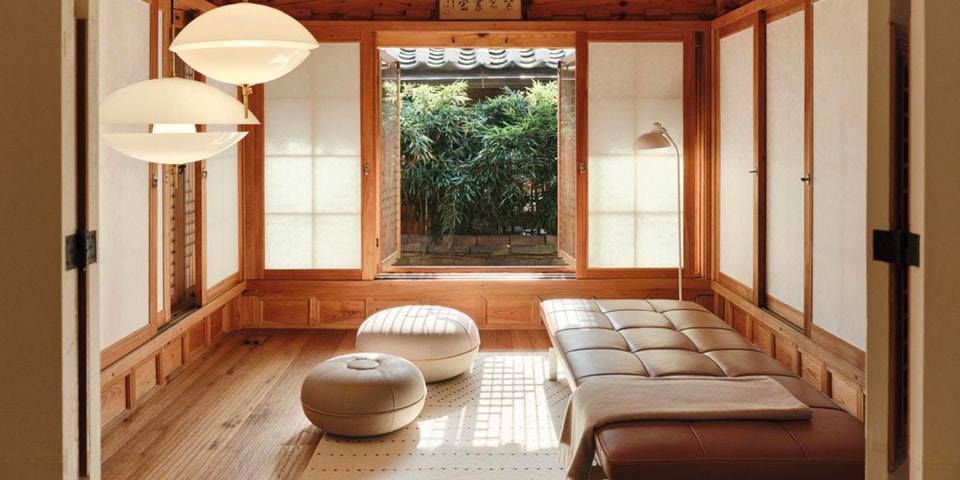 Fritz Hansen Designs Pop-Up Hotel in Seoul
Danish furniture company Fritz Hansen has set up a pop-up hotel in Gahoe-dong, Seoul, South Korea. Originally a showroom to showcase its classic and contemporary interior design, the brand transformed the space into a timeless and atmospheric retreat by merging the traditional Hanok style with its modern pieces made in Copenhagen.
As the building dates back to the 19th century, Fritz Hansen wanted to maintain the same demeanor and aesthetics by keeping intact some classic elements such as the courtyard, the living room, the wooden tiled roof, the shoji paper windows and the stream and the effortless connection of the rooms to the outdoors. The infusion of furniture by Poul Kjærholm and Arne Jacobsen, the lighting by Ahm & Lund and the art of Korean artist Heejoon Lee are strategically placed in each area which are naturally embraced by the structure and frame the natural light s 'infiltrating through the openings and the greenery surrounding the place.
"Fritz Hansen wanted to show how contemporary design blends with a traditional Korean home," the team said in discussions with Wallpaper * Magazine. "A Danish interior ambience is created in the house by adopting low light. Sun loungers such as the "PK20" and "Swan" encourage relaxation and a slower pace. Danish tea is offered as a welcome drink upon check-in, while the contemporary Danish vibe is enhanced by international art books and Bang & Olufsen speakers. The aim was to create a "hygge" atmosphere in a traditional house, through slow experiences such as incense, tea and music. Fritz Hansen wanted customers to feel a little Danish in a Korean house.
Elsewhere in the design, Zaha Hadid Architects completes a structure of endless symbols.