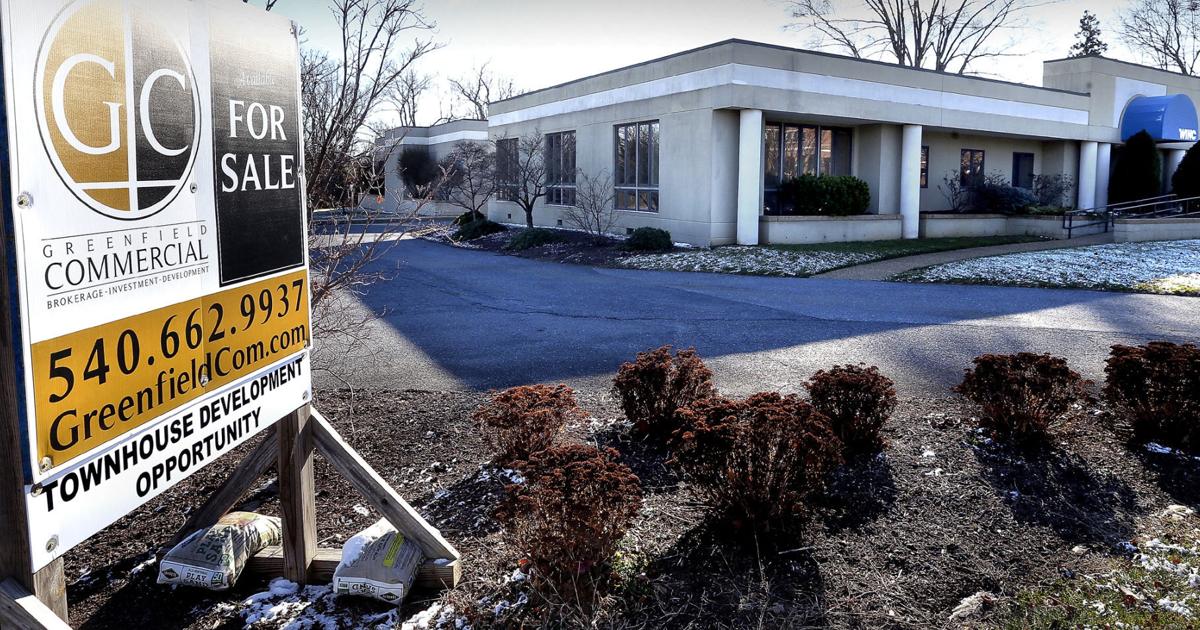 WINC Townhouse Designs Updated to Address Neighbor Concerns | Winchester Star
WINCHESTER — In response to concerns shared by neighbors, the developer of three dozen proposed townhouses on the former WINC Radio property on North Pleasant Valley Avenue has returned to its original plan of building two-story homes rather than three-level units.
Patrick Sowers of Dave Holliday Construction Inc., the Winchester-based company under contract with the owner Centennial Broadcasting II LLC to design and build the three-bedroom structures, also told the Winchester Planning and Economic Development Committee at its Thursday meeting that the number of townhouses has also been reduced from 37 units to 34.
When Centennial first presented its development plan to the city in November, Winchester city planner David Stewart said the townhouses were all two stories. However, to fit 37 three-bedroom units on the 2.82-acre parcel at 520 N. Pleasant Valley Road and still have room for a community building for residents, adequate green space, and a one-car garage for each housing, the designs were changed in January to three-story townhouses.
Several nearby residents complained to the Planning Commission that three-story buildings would be out of character in a residential area that is currently populated with one- and two-story structures. Iara Lacher of the 500 block of Battle Avenue said townhouses would also have a detrimental effect on her home-based business, Seven Bends Nursery LLCbecause the buildings would block sunlight from reaching a greenhouse in his garden.
These comments prompted Dave Holliday Construction to go back to the drawing board and reduce the height of the structures while expanding their overall footprint. Since the buildings are now slightly wider, there is only enough room on the site to accommodate 34 townhouses compared to 37.
Stewart said new townhouses will still have three bedrooms and two bathrooms each, and designs will still include a one-car garage and parking area for each unit.
The new development changes the potential fiscal impact of the development on the city. Initially, Stewart said 37 three-story townhouses would not generate enough property and property taxes to fully cover the city's projected costs for infrastructure, emergency services and the addition of about 11 students. at Winchester Public Schools. Therefore, the total expenditure for the city would be approximately $13,000 per year. However, 34 two-story townhouses with about 10 school-aged children are expected to create a financial benefit for the town, adding about $14,650 to local government coffers per year.
New two-story townhouse designs are priced higher than their three-story ancestors. According to documents submitted to the city by Centennial, three-story units would have cost about $270,000 each, but two-story townhouses will sell for about $350,000 each.
"I want to thank the developer for coming back, taking a look and making the changes," said Planning and Economic Development Committee member David Smith. "That's what I call a good relationship with developers and community partners."
In order to construct the townhouses, a Planned Unit Development (PUD) designation must be added to the Medium Density Residential (MR) zoning of the North Pleasant Valley Road property. The committee unanimously recommended Thursday that city council approve the rezoning.
If the PUD designation is added, Winchester planning director Timothy Youmans said Centennial will still need to get council approval of a plan of development before construction can begin.
Radio WINC occupied the property at 520 N. Pleasant Valley Road from 1941 until last year when it was sold and relocated. The building that once housed the radio station's offices and broadcast studios is now vacant and flagged for demolition if the townhouse project is approved.
Chairman Richard Bell and members Kim Herbstritt and David Smith attended Thursday's Planning and Economic Development Committee meeting at Rouss City Hall.